William Henry Harrison High School
Class Of 1964
Girls Basketball
The following is a copy of an article that appeared in the Harrison Press in 1964. Many thanks to Barbara Smith Vanover for providing the article and the team photo.
G.A.A. Basketball Team Finishes Unbeaten Season
Harrison High School and the Southwest District, can well be proud of their G.A.A. Basketball team. Under the coaching of Miss June Merten the girls have finished their third straight year in the unbeaten class, and includes 21 straight games, eight of which were played this season.
Six girls on the varsity team have never been in a losing inter-scholastic game. This includes Janet Sperry, Phyllis Goldey, Martha Adams, Sandy Speakman, Ruth Walter and Barb Strimple.
The only real close call for Merten's quintet came in the first game of the season when they won over Fairfield 32 to 28 in an overtime period. Other victories tallied by the undefeated "fems" were 57 to 13 over Princeton; a 53 to 10 pasteing of Colerain; a squeaker over Hamilton Garfield 39 to 37; another drubbing of Lockland 58 to 30; Greenhills fell 37 to 17; Wyoming did likewise, 50 to 35 and Oak Hills suffered to the tune of 51 to 34. The latter game was played Tuesday of this week and was the finale for the season.
The local girls scored 377 points to the opposition's 204, with a point average per game of 47.1 and 25.4 respectively.
Martha Adams, a real "basketball wiz" averaged 20.1 points per game for Harrison and was the real standout. However you can't overlook the scoring record of three other forwards. Jean Bollen had a 10.3 average, Sandy Speakman 8.5 and Janet Sperry 2.4
In the final game with Oak Hills, the opposing team tried to stop Adams, by having two and three girls guarding her and she still scored 14. Also this is where Bollen and Speakman took over. Jean collected 15 and Sandy picked up an even dozen, for three players in double figures.
Other forwards who did a fine job when called upon were Barb Smith, Shirley Noel and Gayle Jackson.
The unheralded guards who did an excellent job stopping the opponents from hitting the "hoops" were Barb Strimple, Ruth Walter, Wilma Miller, Marsha Storms, Shirley Weisbrodt, Caroline Schurmann, Kay Koehler and Phyllis Goldey.
The Reserves record this year was also on the right side of the ledger, coming up with a 5 and 3 record.
Miss Merten stated that "all of the girls on both Reserve and Varsity were great to work with. They played their hearts out every game and showed good sportsmanship, desire and enthusiasm at all times. I am very proud of the way these girls played and conducted themselves during the basketball season."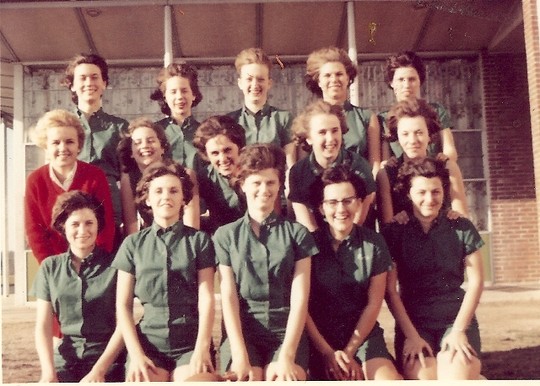 Front Row: Gayle Jackson, Marsha Storms, Barbara Smith, Ruth Walter, Shirley Noel
2nd Row: Scorekeeper Sandy King, Shirley Weisbrodt, Phyllis Goldey, Caroline Schurmann, Barb Strimple
Back Row: Wilma Miller, Janet Sperry, Sandy Speakman, Jean Bollen, Martha Adams, Kay Koehler was absent for picture.